WARNING:  THE PHOTOS YOU ARE USING TO MARKET YOUR BUSINESS MAY BE DOING MORE HARM THAN GOOD!
It's true. Potential clients will make snap judgments about  your business based on the images you show them. It's unfair and it's probably not accurate, but it's still a fact. Are you using any of the following kinds of photographs to represent your business?
• images or head shots taken with a cell phone
• snapshots made by your employees with a point and shoot camera and on-camera flash
• stock images purchased for cheap online
• head shots of your staff standing against a white wall
• anything that was taken more than four years ago
• photographs of former employees or an old location
If you are, they could be telling potential clients that you are comfortable with cutting corners, don't care about poor quality or don't take your business seriously enough to invest in higher quality marketing. Why would any business owner want to send a message like this to clients? STOP SHOWING YOUR CLIENTS SUB-STANDARD PHOTOGRAPHY. It can't be emphasized enough.

Think about this…The better impression your marketing makes on your potential clients, the more likely they are to call you instead of your competition. Start sending the message to them that you mean business. You don't settle for anything less than top quality and never cut corners. Whether it's a product or a service that you offer, give your clients peace of mind that they are making the right choice. That's why we are offering this first-ever commercial photography promotion. In the current economy, your marketing should be working overtime for you and the photographs you're using need to be first rate.

I know exactly what you're thinking. I've heard it before.
"Who has the time and money to invest in professional photography when I can just grab a stock photo online?"
This is EXACTLY the kind of thinking that is putting you behind the competition. Before you go down that dead end road, I have an irresistible offer for you. What if I told you that professional photography doesn't have to give your accountant a coronary? AND, it can be done with very little time investment. I should know…I'm a professional commercial photographer with a client list that includes Fortune 500's, charitable foundations, public relations firms, large restaurants, small restaurants, corner markets, startups, mom and pop shops and MORE. Since 1996, I have been working with businesses just like yours to make top quality photography affordable.
I can show you an example of two remodeling contractors in the one town using purchased stock photos of the same "family" on their websites. Personally, I wouldn't hire either of them to remodel my home if they are comfortable misrepresenting their businesses in this way. When you get serious about marketing your business, you'll realize you want photos of your employees, your products, your salesforce, your food, your work, your vehicles, your happy customers or your place of business, not someone else's.
Let me prove to you that my photography skills will make your company look like the success story it is supposed to look like. Don't compromise your company's image with cheap, low quality photographs. It's time for you to beam with pride every time someone mentions how great your website or brochures look. Your competitors will turn green with envy as you start to see your sales increase. That's the power of the images you should be using to represent your business.

Here it is…I want you to try me out as your official photographer. In return, you will get my services for pennies on the dollar.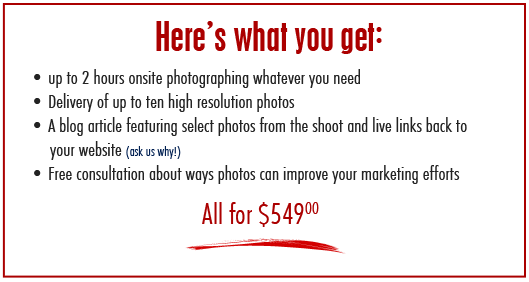 We will spend up to two hours on-site at your location photographing your business. You'll receive high resolution digital files of the best images from the take with full reproduction rights. That means you can use them however you want to market your business (website, brochures, billboard, fliers, sales sheets or annual reports…to name a few). We'll feature a few of the photos on the William Foster Photography blog with live links back to your website (ask why when you call).
Typical rates for this kind of project would range from $1,500 to $3,000…maybe more. But, I want a chance to make a lasting impression on you. I'm so confident you will be 100% satisfied with the images, you wouldn't dream of going anywhere else for your photography.
I am just reviewing the photos you sent out so promptly. I have to tell you my first thought was this "I am so lucky to have Bill Foster to call on" Honestly, I had no time to be as thorough as I had hoped to be, I threw you a last minute assignment and you sent me beautiful photos. Lots of variety and places for text to go. Thank you so much.
Barb K. – The Jackson Laboratory
What sort of photography do I need?
From a marketing standpoint, you need photos of YOUR company. Not generic stock photos bought online. The photos that represent your business need to show your people, products, services and processes. We will work with you to create images that tell the unique story of your company. When you call to schedule, we will talk about a shot list that  includes images that send the right message to your clients and leads. If you need some ideas about how we could fill two hours of time and how that translates to actual photographs, check out the four tabs below on the right. There are four different industries listed and each has ideas about what kinds of photographs could be used to market each one. Your specific business may be different, but these should get you thinking about what can realistically be done with the time slot.

How do I take advantage of this irresistible offer?
If you are ready to take advantage of the Business Image Facelift promotion, you can call me directly at (916) 984-7063 to schedule your consultation or click Contact Us in the menu above and fill out the form. The Business Image Facelift is good for any business in the Austin metropolitan area. If you're outside of Austin, the offer stands, but travel time may be added. Just ask!
Restaurant
A restaurant or nightclub could realistically use this promotion to build a small library of the following images:
1. Portrait of the owner or general manager
2. Portrait of the executive chef
3. Photograph of the building exterior
4. Three photographs of the interior
5. Photograph four plates of food or drinks
To fit these ten images into the two hour time block, the chef and other staff would need to give us their undivided attention and be highly organized. Food photography is tricky and the food MUST be shot while hot and fresh. To make things efficient, the chef would be plating while one dish was being photographed.
Real Estate
A real estate firm may want to have the following images to market their firm:
1. Professional head shots for a couple key individuals
2. Photograph of a happy family in their recently purchased home
3. Photographs of an agent showing a home to a family or couple
To pull off this kind of shoot, a home should be available and presentable for a professional shoot. Agents and photo subjects should be prepared and organized and know ahead of time what will be expected.
Product Manufacturer
A product manufacturer may want to show their facility and specific points in their process as part of their marketing. A manufacturer of any kind of product wants to also show a clean photo of the product as well as the product in use. Here are some ideas for a realistic shoot:
1. Photograph of the product either on white or "environmental"
2. Photograph of the product in use
3. Photograph of the interior of the facility
4. A few photographs of assembly or process points
This kind of shoot requires planning and organization. We try to avoid plant or process down time. We also take into consideration all safety precautions.
Contractor
A contractor or remodeler could use this promotion to build a library of the following images:
1. Location portraits of key staff (owner, supervisor, job leads, etc.)
2. Professional photographs of a recent project
3. Family portrait of a happy client in their remodeled home
This shoot requires planning in advance to arrange a recently remodeled home to be available. Staff and subjects should be ready to go throughout the time of the shoot (two hours).
This truly is an unbelievable promotion and we are expecting an enormous response. In order to keep things from getting chaotic, here are the terms, conditions and details of this offer:
1.  This offer is intended for small to medium size businesses located and headquartered in Northern California.
2. Assignments outside of the Sacramento Metro region may require an additional fee to cover fuel, travel and additional time.
3. Unrestricted usage of the photos is for businesses that target a specific, localized region for clients. If you are a larger business and intend to use the images for mass advertising campaigns, please contact us first to see if your needs can be filled with this promotion.
4. This offer is extended to new and existing clients of William Foster Photography.
5. Each business can book up to two sessions
6. Payment for service is due at the time of your shoot. We can take credit cards, cash, check or Paypal.
7. You will select the final images to receive. We will not release any out-takes or additional images from the take. If you require additional images for your marketing library, you are welcome to book up to two sessions.